Quoting from the news article :
At the Bhadbhada crematorium in Bhopal, people say they have not witnessed such scenes since the 1984 Bhopal Gas tragedy.
BN Pandey, 54, who came to perform the funeral of his brother, said on Tuesday: "During the gas tragedy, when I was in Class 9, we saw such scenes. Today just in four hours I have seen 30-40 dead bodies here."
---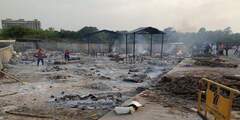 Bodies are piling up at crematoriums and burial grounds in Madhya Pradesh, reflecting a steep rise in Covid cases, but there seems to be an unexplained gap between the official daily death count released by the state government and the ground reality